How to Make Sure Your Company Meets Security Monitoring and Incident Response Requirements
Security Monitoring and Incident Response are two critical components for any business to enable their data and networks are secure. In this blogpost we will look at the specific requirements mandated by NIST SP 800-171 and CMMC Level 2, as well as take a closer look at why it's important to adhere to these standards and what steps need to be taken to get compliant.
Introduction to NIST SP 800-171 and CMMC Level 2
NIST SP 800-171 and CMMC Level 2 are both security standards that have been developed to help protect controlled unclassified information (CUI) in the United States.
NIST SP 800-171 is a set of guidelines published by the National Institute of Standards and Technology (NIST) that defines 110 security controls that are required to be implemented by companies who process, store, or transmit CUI on behalf of the federal government or other agencies. The requirements cover various aspects of information security, including access control, incident response, personnel security, physical security, risk assessment, system and communication protection, and configuration management. The purpose of these requirements is to establish a baseline for protecting sensitive government information and to help organizations safeguard their data as well.
CMMC L2 requires you to implement the NIST 800-171 set of controls. One of the main differences between NIST SP 800-171 and CMMC Level 2 is how compliance with the controls is assessed. NIST SP 800-171 requires companies to perform a self-assessment against the controls and to document their compliance with each of the 110 controls. This documentation is then provided to the federal government as part of the contracting process. CMMC Level 2, on the other hand, requires not only documentation of compliance but also third-party assessment and certification.
The Importance of Compliance for Companies
Security monitoring and incident response handling capabilities are critical in protecting sensitive data because they help organizations detect and respond to security incidents that could compromise that data.
By continuously monitoring your systems and networks for signs of suspicious activity, organizations can quickly identify and contain security incidents before creating any significant harm.
Incident response plans provide a structured approach for organizations to manage security incidents, including steps for containment, eradication, and recovery. By having effective security monitoring and incident response handling capabilities in place, organizations can reduce the risk of data breaches and other security incidents that could lead to the loss of sensitive data, financial loss, or damage to their reputation.
Security incidents can cost companies millions of dollars in damages, so it is important to have a plan in place to quickly respond to and mitigate any potential threats.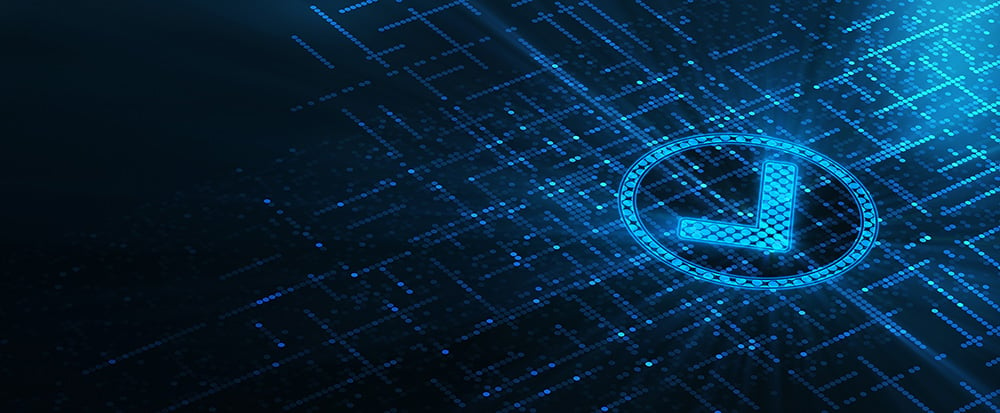 Overview of Security Monitoring & Incident Response Requirements in NIST SP 800-171 and CMMC Level 2
As more companies transition to working with sensitive data, it's important to understand the security monitoring and incident response requirements in NIST SP 800-171 and CMMC Level 2. Maintaining a secure system requires paying close attention to key areas such as security monitoring and incident handling.
To this end, both NIST SP 800-171 and CMMC Level 2 have established a set of security requirements that companies must adhere to in order to strengthen their security monitoring and incident response capabilities. These requirements encompass a range of measures, including but not limited to:
Monitoring user activity
Establishing incident handling capabilities that includes: preparation, detection, analysis, containment, recovery, and user response activities
Monitoring Remote Access Sessions
Monitoring and correlating audit logs
Alerting
Monitoring systems
Steps to Take Towards Compliance
To attain NIST 800-171 compliance, specifically regarding security monitoring and incident response capabilities, organizations should take into account several crucial steps. Here are steps to consider towards NIST 800-171 compliance related to security monitoring and incident response:
Define how you will monitor your environment and who will be responsible for monitoring.
Establish a baseline of normal system behavior. This will help you know what to look for when monitoring for anomalous activity.
You should implement continuous monitoring of your system. This means having the ability to detect, respond to, and recover from incidents in near real-time.
Automate as much of the monitoring and incident response process as possible, which will help reduce the burden on your staff and improve efficiency.
Implement a centralized alerting and incident management system.
Make sure you have adequate logging in place so that you can track the activity on your system and quickly identify any suspicious activity.
Regularly review your security posture and update your security controls as needed to make sure that they remain effective against the ever-changing threat landscape.
Tools for Security Monitoring & Incident Response
There are many tools available to help companies with security monitoring and incident response requirements. Some of these tools are free, while others are commercial products.
The SANS Institute provides several free tools for security monitoring, including the Security Information and Event Management (SIEM) Evaluation Criteria spreadsheet and the Open-Source Security Information Management (OSSIM) project.
The National Cybersecurity Center of Excellence (NCCoE) guides on how to implement security monitoring using commercial products, in their Cybersecurity Framework Implementation Tiers and Targets document. This document includes a list of over 50 different security monitoring capabilities and associated controls.
The Carnegie Mellon Software Engineering Institute's (CMU/SEI) CERT Division also guides security monitoring, including the CERT Resilience Management Model (CERT-RMM), which is a framework for integrating resilience into organizational processes, and the CERT Program Lifecycle Model for Security Incident Response Teams (CERT-PLM-SIRT), which is a lifecycle model specifically for incident response teams.
AlienVault Unified Security Management (USM) is a commercial product from AlienVault that provides an integrated suite of SIEM capabilities for detecting threats, responding to incidents, and analyzing trends in security data.
Splunk Enterprise Security is another commercial SIEM solution that provides incident detection and response capabilities for real-time security monitoring and analysis.
Finally, Microsoft Sentinel is a cloud-based SIEM and security monitoring and analytics platform that can help with security monitoring. It includes features such as advanced threat detection, automated response, and compliance reporting. Quzara utilizes Microsoft Sentinel as our SIEM tool of choice for our Cybertorch service. Here is a sneak peek of this tool: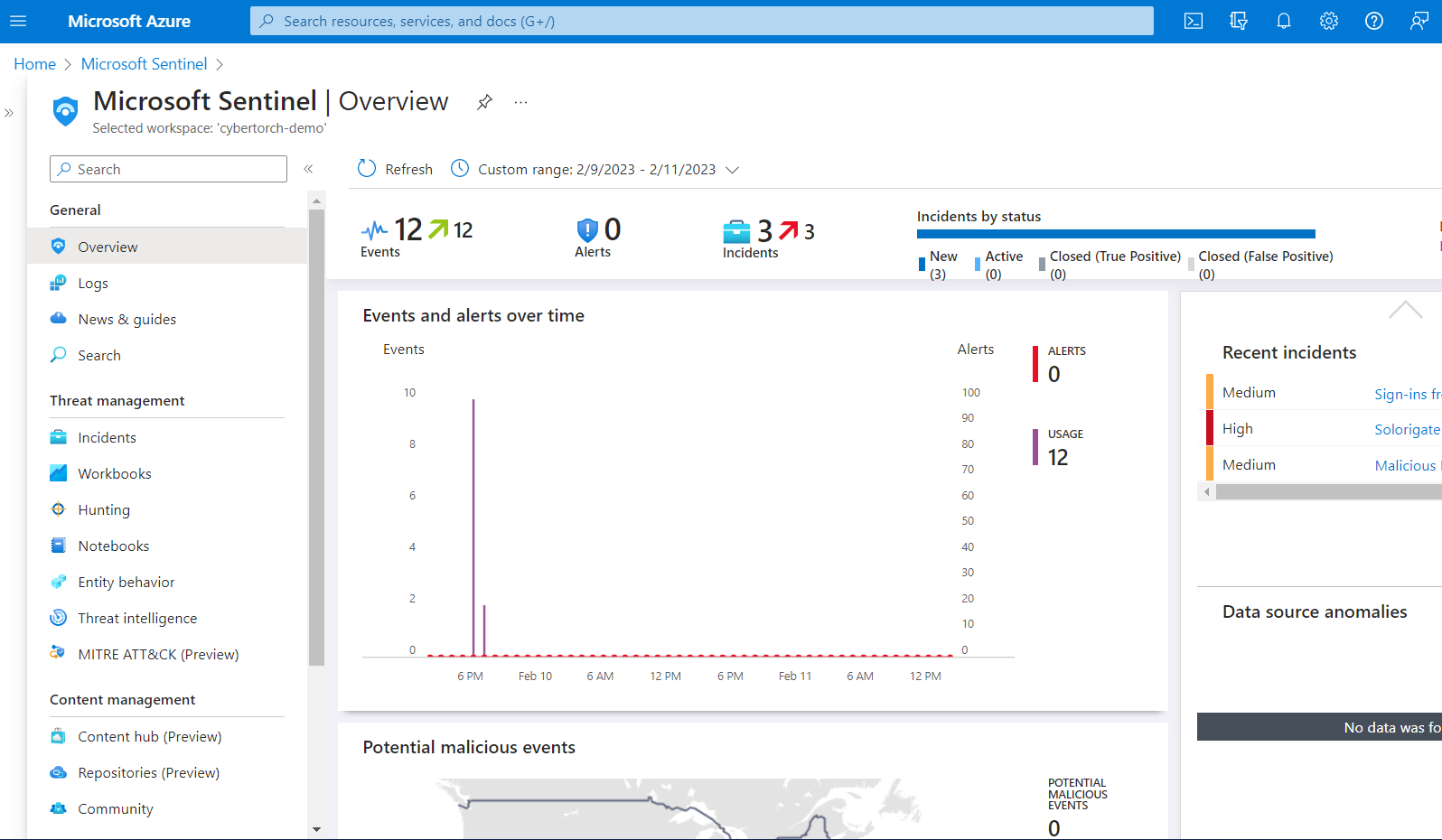 Conclusion
In conclusion, protecting your organization's information and meeting compliance standards requires a proactive approach that involves choosing the right monitoring system, staying informed of any changes in the security compliance landscape, and taking proactive measures to protect against threats. Managed Security Services Providers (MSSPs) can assist in developing an approach and plan to make meeting these requirements more straightforward.
While compliance is crucial, it is important to remember that it does not guarantee security. To safeguard your data, you must take proactive measures, such as implementing appropriate policies and procedures, utilizing security tools, regularly patching systems, encrypting data, auditing user accounts, and training employees on security best practices.
Meeting NIST SP 800-171 and CMMC Level 2 requirements is a significant step towards being secure and compliant. By taking the necessary steps to meet these requirements, you can improve the protection of your data and reduce the risk of security incidents. Therefore, it is essential to prioritize cybersecurity and remain vigilant in safeguarding your organization's information.