Managed Extended Detection & Response MXDR
Quzara Cybertorch™

empowers organizations
with 24/7/365 MXDR solutions
that drive security and compliance.


JAB Prioritized FedRAMP HIGH Managed SOCaaS and MXDR
FedRAMP Enabled, Modern SOC Operations for Advanced Threats





What is Managed Extended Detection and Response (MXDR)?
Managed Extended Detection and Response (MXDR) offers protection 24/7/365, enabling organizations to increase resiliency against cyber threats, using technology-enabled, human-powered services.
Quzara provides ongoing detection, hunting, and protection against malicious attacks and adversaries, allowing businesses to focus on what they do best.
Cybertorch™ is SOC 2 Type 2 approved, leveraging FedRAMP High ready status and DOD IL5.
It empowers organizations by:
Monitoring Threats
Orchestrating Security
Performing Incident Response
Managing Vulnerabilities Across Environments
Cybertorch™ is supported 24/7/365 by US-based security analysts, enabling remediation efforts across all infrastructure types (including on-prem, OT/IoT, and hybrid cloud).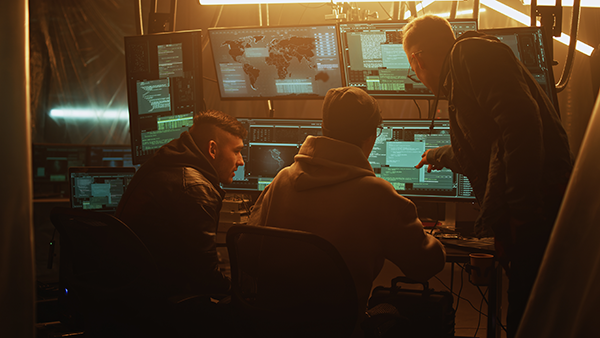 Vulnerability Management Services
Threat Hunting
MXDR for Microsoft Defender
MXDR for Microsoft M365 & Azure
MXDR for Microsoft O365
MXDR for Microsoft Sentinel
MXDR for Microsoft Cloud Apps
MXDR for Microsoft Defender for End Point
MXDR for IoT/OT
Advanced KQL Detection-as-a-Service for Microsoft Sentinel
Vulnerability Management Services
We offer specialized security operations support to assist Federal, Commercial, Government, and Defense Industrial Base (DIB) sectors in meeting vulnerability management requirements in NIST (National Institute of Standards and Technology)frameworks including continuous monitoring, and continuous defense programs. We assist customers with wide ranging scans (discovery, authenticated scans, compliance scans, container scans) and perform all triaging, remediating, and reporting of threats based on agency requirements.
Threat Hunting
By discovering vulnerable infrastructure and assessing system flaws and human factors, we identify and quantify risk, with concurrent remediation planning. Our services include linked data for hunting and visual navigation of the context of assets, actors, and events.
MXDR for Microsoft Defender
For full visibility across your entire environment, including data from other security solutions such as firewalls and existing tools, our MXDR utilizes Microsoft security stack from Microsoft Defender to Azure Sentinel built on a cloud native SIEM+SOAR platform.
MXDR for Microsoft M365 & Azure
We leverage native Azure cloud stack, with Azure Sentinel, AIP, ATP, and security center to identify real-time risks to M365 and Azure workloads.
MXDR for Microsoft O365
Full visibility into Office 365 app usage and data including dedicated dashboards and triaged alerts to prevent attacks including business email compromise (BEC).
MXDR for Microsoft Sentinel
Leveraging existing Sentinel subscriptions, the Cybertorch™ team provides clients with enhanced security and compliance capabilities, including roadmaps and pre-built documentation to support and automate procedures.
MXDR for Microsoft Cloud Apps
Cybertorch™ protects Microsoft cloud apps and
SaaS
apps through advanced threat protection and cloud security posture management support (CSPM). We provide valuable insights and aid in compliance requirements including routing, tool setup, and configuration.
MXDR for Microsoft Defender for End Point
Knowing that the endpoint is often the most critical part of an organization's attack surface,
Cybertorch
™
's
MXDR
services are optimized for hunting queries, threat alert integration, and custom rules.
MXDR for IoT/OT
Our 24/7/365 US-only trained staff of security and threat analysts provide
MXDR
solutions optimized for clients IoT and OT devices including detection, reporting, vulnerability scanning and remediation across attack surfaces.
Advanced KQL Detection-as-a-Service for Microsoft Sentinel
The Cybertorch™
MXDR
SecOpS
team optimizes threat hunting queries with
Kusto query language (KQL) and advanced KQL rules. Pre-programmed and defined rules allow for maximum use of Microsoft Sentinel with protection and hunt support 24/7/365.
What Makes Quzara Different
FedRAMP- HIGH Ready Designation SOCaaS
Cybertorch™ has achieved a FedRAMP Ready at HIGH impact level designation - the only SOCaaS (Security Operations Center as a Service) with this certification in the Government industry.
StateRAMP- HIGH Ready Designation MXDR
Cybertorch™'s
managed extended detection & response (MXDR) platform and SOC-as-a-Service are
StateRAMP
Ready at the HIGH impact level.
Continuous Monitoring
Cybertorch™ provides 24/7/365 around the clock, managed extended detection, and response (MXDR) services with cybersecurity personnel located in the United States.
Incident Response Support
The
Quzara
incident response team is equipped to manage real-time discovery and remediation efforts as threat actors move across infrastructure and environments. Our advanced detection and threat (ADT) response analysts monitor and maintain ongoing surveillance, 24/7/365, with the industry's leading tools,
solutions
and experience to identify and respond to attacks.
Advanced Threat Detection & Intelligence
With
Quzara's
threat intelligence team, organizations receive actionable, contextual, and manageable information. With the help of our team, security solutions such as Microsoft Azure, Defender
& Sentinel are enhanced, along with cloud services offered by Amazon Web Services and Google Cloud Platform. Providing both automated and manual
ly curated
threat
intel
,
Quzara's
threat intelligence and hunting teams assist our incident response team in reducing false positives, improving awareness, and dismantling source gathering activities.